Keats Manufacturing Company offers high-quality, custom bushings, designed to cushion noise, friction and movement.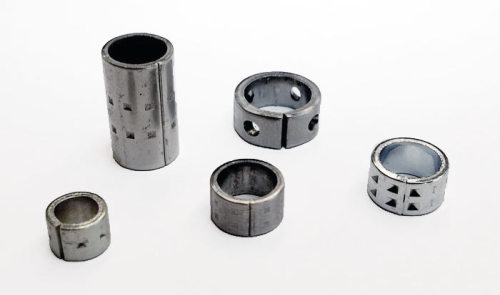 To manufacture innovative custom bushings, Keats Manufacturing Company utilizes the latest, state-of-the-art technology, including CAD/CAM and five EDM and CNC machines. Our expert die makers create all of our tools in-house, ensuring precise tooling methods developed to meet our customers' exact specifications.
All three of our locations are ISO 9001, ISO 14001 and TSI 16949 certified. We collect data across all manufacturing stages to facilitate final inspection before delivery—guaranteeing that our customers receive the highest levels of quality.
We provide prototyping services to facilitate high volume orders of up to 50 million parts, our company works 24-hours a day, five days a week to quickly fulfill our customers' requests using cost-effective methods. Contact Keats Manufacturing Company today for more information on our custom bushing capabilities.
Custom Bushings Capabilities
Wide range of sizes (oval, round, tall and small)
Diamond imprints
Knurl patterns
Made from many types of metal and composite materials
Just-in-time delivery
Four Slide/Multi-slide stamping press technology
12-member quality control team