In his inaugural speech this week, newly-elected Governor Bruce Rauner recalled his visit to Keats Manufacturing Company and described what he learned from Keats' history.
Rauner acknowledged how far Keats has come: from one employee and a couple machines in 1958, to employing 110 Illinois workers and 75 machines running 24 hours a day, 5 days per week. He also told the story of Keats founders Bert and Glenn Keats and their hard work that brought the company to where it is today.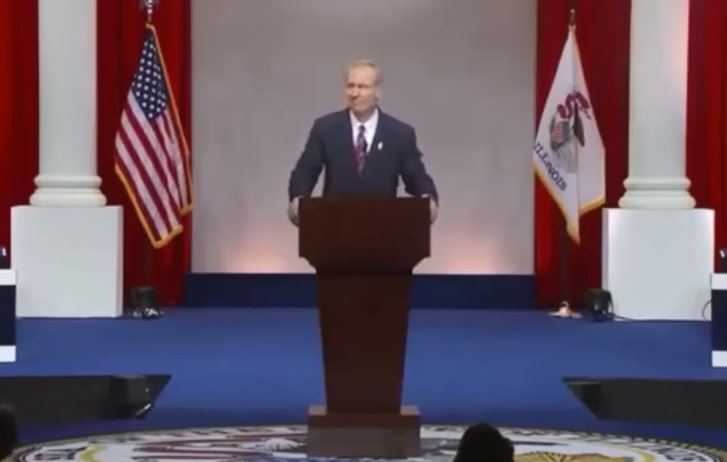 We'd like to thank Gov. Rauner for taking time out of his busy schedule to visit our company and tell our story. In the remainder of his speech, Rauner also spoke of the challenges Keats and many other Illinois companies face today: finding customers who also do business in Illinois.
Though Keats and Keats Southwest serve companies around the country, local business is important to us. We share Gov. Rauner's vision for a robust, competitive Illinois economy that our employees and neighbors can enjoy.
Here at Keats, we understand how critical it is to get involved with our surrounding economy. As Gov. Rauner put it, "in order to thrive, we must prepare the next generation for success."
Our  involvement with the Joint Policy Board for Mathematics makes young students aware of the technical and manufacturing opportunities available to them through lectures, events, contests and educational outings. Our paid internship program finds talented Illinois students to learn and work with Keats. We've also held an eight-week basic metalworking skills class in partnership with the Jane Addams Resource Corp.
Getting youth excited about the industry is one of many steps businesses can take to boost the economy. It's important to remember that successful business starts with your own employees and the community that they live in.
Play the video below or watch it on YouTube to view the rest of Rauner's visionary speech.